The debate on gender equality in public toilets has intensified over the past five years. Many women complain about the unfavourable conditions they encounter when using a public toilet, compared to men. Female voices of recognized prestige in their respective fields have noticed the lack of gender perspective that architects possess when designing a public toilet.
Some professionals, such as Eva Pollo, CEO of the women's products company COCORO, with the aim of reducing and eliminating this inequality, have decided to carry out a campaign aimed at all architectural studios in Barcelona, to raise awareness and make them take into account the differentiated needs of women in the bathroom when designing their projects.
They denounce what in more formal terms is called an androcentric vision, a perspective centred on and thought out solely from the point of view of the male gender.
Some architects defend themselves by commenting that their work is simply a reflection of the unequal society in which we live.
In relation to this perspective, we would like to emphasize a phrase of the famous English urbanist and feminist Clara Greed: " If you want to know the position of women in a particular society, look at the line formed in the toilets". What is certain and plausible in the eyes of everyone, is the consequences that this inequality generates every day in public bathrooms.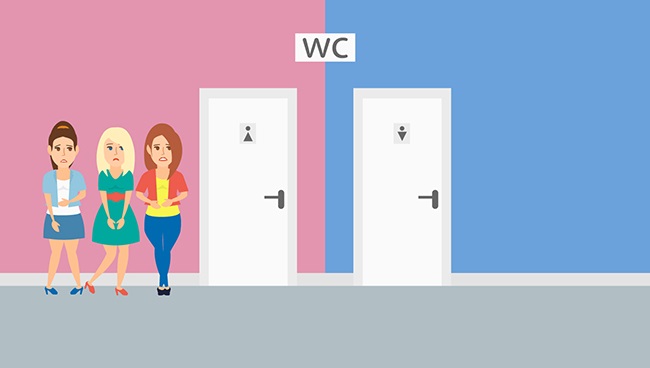 "If you want to know the position of women in a particular society, look at the line formed in the toilets" (Clara Greed – Urbanist).
According to a study by the University of Ghent, women spend on average 30 seconds more than men in the bathroom (the average for women is 80 to 90 seconds; for men, 50 to 60 seconds).
The particular characteristics of female gender that make their time in the bath longer are specified in three points:  
    a) Their biological constitution, since their bladder is smaller because their body needs more space for their reproductive system,      they have their menstruation and they always do their needs sitting down.
    b) Their social roles. The women are almost always in charge of taking their small children to the toilet.
    c) And, finally, their clothes. While a man only unzips his pants, a woman must undress half her body to urinate.
On the other hand, the physical space for a female toilet is the same as that of a male one, and this also generates inequalit. Men's urinals take up less space and it is common for the female area to be reduced by baby changing stations, larger mirrors and perhaps a decorative couch, Women have fewer toilet units in the same square meters.
The union of the two previous points translates into an image that is repeated assiduously in all the women's toilets in any airport, shopping centre, sports ground or discotheque: rows and rows of women waiting to gain access. According to a survey conducted by Yougov in the UK, 59% of women say that they almost always find a huge line when they go to a public toilet, compared to 11% of men. The University of Ghent conducted a study on how all these factors increase the time women spend in the bathroom by 50% compared to men.
Another study by the Royal Society for Public Health (RSPH), the UK's public health watchdog, shows that there are not enough public toilets in Europe to meet women's demand. Therefore, to solve this serious problem, and according to the writer Lezlie Lowe, author of the book "No place to go: how public toilets fail our private needs", it is necessary to apply what in Anglo-Saxon countries is called "potty parity", which refers to a law that guarantees that in public facilities the proportion of toilets must be 2:1 or 3:1 in favour of women.
Once the problem has been raised, there is now an open debate on what is the best solution to solve it. Some architects and urban specialists propose (and already have successful experiences) a system with bathrooms regardless of gender. Are so-called unisex baths the best solution to the problem? This is an issue we will try to resolve in a future post on our blog.

Main sources