What can we do to make a public baby changing station much more hygienic?
From the very beginning of this terrible Covid-19 pandemic, at Mediclinics we asked ourselves how we could help to defeat the virus. Countless ideas emerged that later were transformed into new products or in improvements on existing products that today are helping to combat this pandemic. We are talking about new disinfection stations, new hand sanitizer gel or spray dispensers, HEPA filters, etc. Out of all these great ideas, one stands out: the application of Ion Hygienic© technology to our BabyMedi© changing stations as an effective and efficient method of disinfection and sanitation.
But, please, let me explain how this idea came about. Looking for information on how we could fight the virus, we found a scientific article stating that viral and bacterial infections are common among people of all ages but often seem to be concentrated in infants and children.
This article said that young children are particularly susceptible to viral infections because their immune system is not fully developed. Specifically, it pointed out that toddlers get sick from viral infections as many as 6-12 times a year in the first few years of life.
While children already have some immune systems in place to help them fight against virus and bacteria, this is not the case for babies who are only a few months old. This is the reason why babies are more exposed to infections caused by viruses and bacteria.
This infection risk increases in public washrooms, especially if these places are not disinfected properly and regularly.
This article led us to think about how we could make our baby changing stations, already safe with Biocote© technology, even more hygienic. There were many very good ideas to improve the hygiene level of our BabyMedi© stations, but the best of all was to apply the Ion Hygienic© technology that we were already applying in our electric hand dryers.
What is Ion Hygienic© Technology?
Ion Hygienic© is a technology based on the negative ions generation through an ionizer. Ionizers are electric devices capable of transforming stale air into pure air and it can help to sanitize surfaces, as well, all thanks to the generation of the mentioned negative ions. An ionizer can eliminate most microorganisms harmful to your baby that are in the air and on the surfaces of objects.
Ion Hygienic© technology applied to a baby changing station is capable of sanitizing its surface by electrically charging. The ionizer assembled inside the baby changing station use negative ions to remove particles, microbes, and odors from its surface. Ionizers make the surface of the baby changing station healthier for babies.
Can you imagine a baby changing station installed in a mall, in an airport, in a restaurant, in a kindergarten or anywhere free of harmful microorganisms for your baby? This is ION HYGENIC©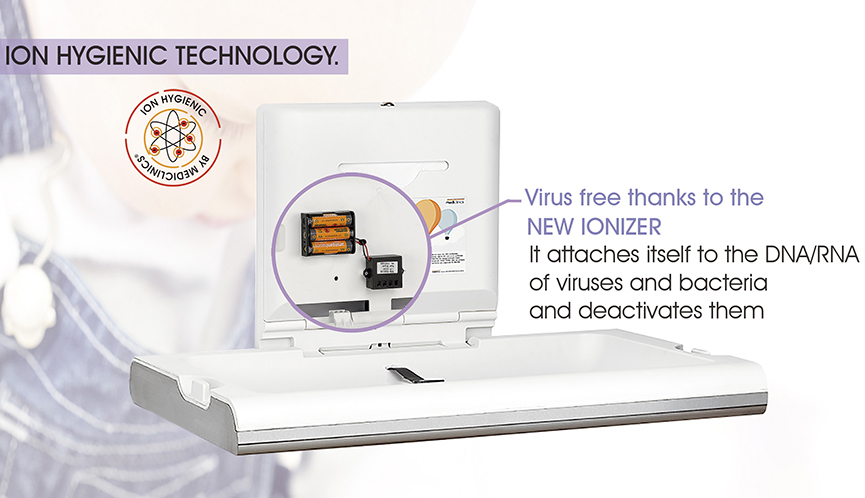 How does Ion Hygienic© work?
Imagine eight electric electrodes inside the ionizer and that sufficient voltage between these electrodes is applied. Immediately, negative ions are produced in the discharge region by electron-particle collisions and fusions. These negative ions, with the help of the air positive ions, by electrostatic attraction, form clusters around micro-particles such as airborne mold, viruses, bacteria and dust mite allergens, and render them inactive through a chemical reaction. 




This inactivation mechanism of the virus or bacteria is carried out because of negative ions from the ionizer and positive ions contained in the air cluster around their proteins (these proteins are responsible of the attachment to a life organism and to trigger the infection) and are converted to hydroxyl radicals, a powerfully active substance. These hydroxyl radicals are so strong that they can steal all the hydrogen from those proteins making the ions react and combine chemically to form water. The virus cannot infect any more cells because the microorganism protein is damaged, even when it is introduced into the human body. At this moment, we can say, without any doubt that the virus or bacteria remains inactivated forever.
All this sanitizing process starts right when the BabyMedi© changing station is closed. An electronic sensor detects that the baby changing station has been closed and triggers the process. This is because of the magnet installed inside the upper rear part of the BabyMedi©'s bed that interacts with the mentioned electronic sensor. Although the Ion Hygienic© technology is totally safe for the baby, the system stops completely, for safety reasons, if the ionizer is working and the baby changing station is open in the middle of the cycle.




Ion Hygienic© is completely safe for the baby because it reproduces the same it happens in nature. Negative ions in the air are nature's way of clean­ing away unnat­ural tox­ins. It is known that within pris­tine, nat­ural envi­ron­ments, habitats that are far removed from urban centers and indus­trial regions, the air is health­ier to the human body. The lev­els of pol­lu­tion are lower and the ions in the air are in nor­mal concentration. In nature, this hap­pens thanks to water­falls, light­ning storms, ocean surf and even sunlight and in the BabyMedi© changing station it is due to the ionizer.


How can I be totally sure that Ion Hygienic© kills harmful microorganisms for my baby?
Ion Hygienic© definitely works, it has been tested and approved by TÜV Rheindland at its laboratories in Germany, as its test report number 603229708-001 proves: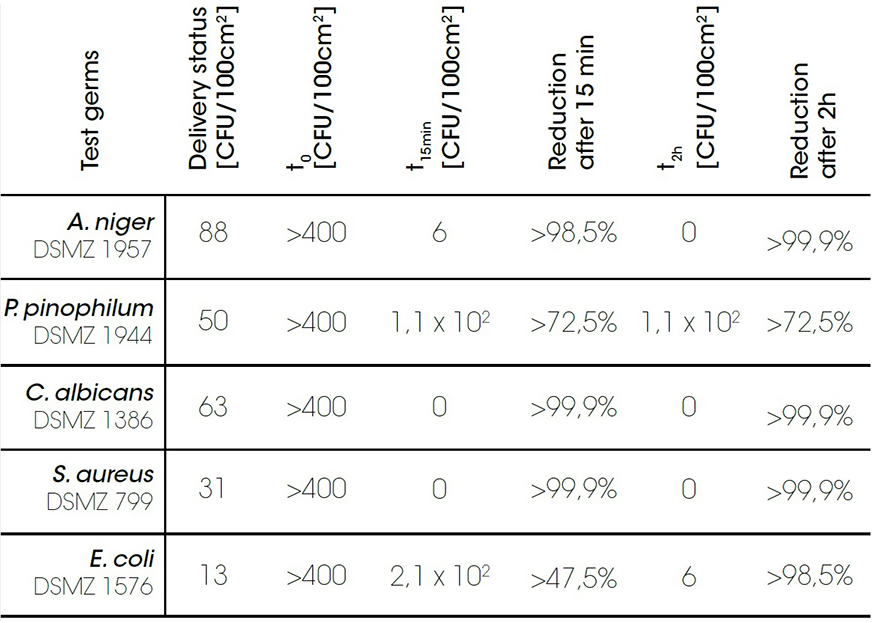 Table from test report number 603229708-001 from TÜV Rheinland that proves Ion Hygienic© technology works
At the first moment, Mediclinics registered, in the Spanish Patent and Trademark Office, the utility model (a patent-like property right to protect inventions) of this product for the Spanish market and after that, we have extended to other European countries.
Summarizing, Mediclinics is the first manufacturer in the world that applies an ionizer in a baby changing station as a sanitizer method. Ion Hygienic© technology,as we have seen previously, is totally safe for babies' health because it is innocuous and it has the ability to kill harmful microorganisms found on the baby changing stations. Ion Hygienic© technology, working together with the antimicrobial additive Biocote©, make our BabyMedi© tables the most hygienic baby changing stations on the market because no other in the world incorporates these two successful sanitizer technologies together.